Dean Gardiner

Oceanpaddler founder Dean Gardiner is regarded by his peers as the best Australian downwind paddler of our time, his reputation founded on countless victories internationally at the world-renowned Molokai Challenge, at the ICF World Cup, world regattas and countless races in Australia.
A nine-time Molokai World Champion, Dean's first Molokai was in 1989, and since then he has raced almost every one of the 53 km Hawaiian enduros.  The most revered ocean ski race in the world, paddlers are faced with an ocean crossing, traversing the Kaiwi Channel from Molokai island to Oahu.   So dominant was Dean, that the race record that was set in 1994 – and he bettered in 1998 – held strong for 24 years, only broken in 2018 by his good friend and fellow Fenn paddler, Cory Hill.
Perth born and bred, Dean was the founder of the iconic Doctor race, a 27 km downwind race from Rottnest Island to Perth.  He staged his first Doctor in 2001, won it in 2022, and has built it over the last two decades to the legendary event it is today.
In 2002, Dean introduced ocean paddling to Australia through the introduction of Fenn skis to our shores, and the development of the first ocean racing series.
Two decades of hard work and financial risk by Dean, has seen the sport flourish in Australia and now Oceanpaddler organises the Shaw and Partners Australian Ocean Racing Series, a 16-race championship across five Australian states.
Dean's a pioneer of ocean ski racing, and along with a handful of passionate paddlers from around the globe, is largely responsible for the popularity of the sport today.
Dean's story…
Born in Perth, Dean started paddling at 13, a fun pursuit with some mates out of Floreat Surf Club.  A lack of surf in the summer months, and an abundance of downwind on Perth's beaches, made paddling the ideal replacement for riding a surfboard.
"I was paddling pretty young but never really got into the competitive side till my late-teens.  Back then I was inspired by guys like Ken Vidler, who had dominated surf ski and ironman racing," said Dean. 
Dean trained most of the time by himself and would paddle up wind from Floreat, then catch the runs back nearly every afternoon.
In his late teens, Dean started working as a professional fisherman in Australia's north.
"Those were interesting times as I was really enjoying the paddling and was just starting to get into the competitions.  
"Fortunately for me, fishing kept me on the water and was predominantly winter months in the north and I would bolt back to paddle in Perth over summer. I kept myself pretty fit on the fishing boats with loads of surfing and running when we were back at port."
By his late-teens, Dean had moved to the stronger City of Perth Surf Club and was really starting to perform in surf-lifesaving events. 
"I came back from a season in the north and was pretty fit and jumped straight on the ski at the start of summer. I was still a junior, and Kelvin Graham who went on to win many surf-lifesaving titles and an Olympic medal in kayaking, was the guy to beat. 
"It was great to have Kelvin around in those early days as he set the bar very high when it came to performance and dragged a few of us along for the ride."
There were no real solid training programs for ski paddlers in existence at the time, so Dean came up with a way of converting swim training to paddling.
"I had guidance at City of Perth from guys like Greg Mickle and I learnt to train under the tough swimming regime that Rick Turner had created. It was Rick's programs I used as the base for my ski paddling training. 
"Rick was awesome with longer distance swimmers. Given that our races at the time were around 4 minutes long, it made sense to train the same as a two and four hundred metre swimmer but on a ski.
At the time, work in the fishing industry was diminishing so Dean became a skipper on the trawlers in Exmouth Gulf.  "I loved working on the boats and the north-west lifestyle, but it was taxing on the body and was unsustainable as any income was quickly soaked up in living expenses."
In the late 80s, Dean moved east to Sydney and Manly Surf Club.  Working as a lifeguard and driving charter boats on Sydney Harbour provided an income and paddling with guys like Steve Wood, Greg Bennett, Tony Vieceli and Guy Leech gave him a competitive drive.
The surf-lifesaving events at that time were great, but Dean was more inspired by the longer events that were emerging. A few years before Grant Kenny had won Molokai as a 16-year-old and news of endurance events in South Africa, Tahiti and the US was filtering out.
"I competed in the SLSA events with some good results but it was the open water events that I was drawn to," said Dean.  "I think this may have stemmed from my days at sea on the fishing boats and feeling comfortable with the expanse, having a sixth sense for the small idiosyncrasies the ocean can present."
In the late-eighties, Dean competed in his first Molokai. He was hooked and has been to nearly every event since. Dean won most of the Molokai events through the nineties breaking the record in 1994, and then again in 1997. That record was held until 2018 when it was broken by Dean's good mate Cory Hill and then in 2019 by another mate Hank McGregor.
Early nineties also saw the creation of the 20 Beaches race in Sydney. Dean won the first of these events, and just about every other race that was going at the time.
In 2004, Cape Town hosted the first ever ICF Surf Ski World Cup and Dean took this out from Herman Chalupsky and Tim Jacobs in big seas.
"I was travelling a lot in the late 90s and early 2000s. There were quite a few events at that time in different countries and I loved going to those places and racing different people."
It was on one of these trips to South Africa that Dean met up with Keith Fenn.  "I had never paddled the South African skis and was adamant that I never would.  I had total faith in Ray Burtons skis made in Australia, and felt I would be giving something up if I moved to the "Saffa skis" even though I knew they were quicker."
"But around the time Ray Burton passed away.   I rolled up to a race in South Africa, and my ski didn't make it.  Keith gave me one of his to use and since then I have been paddling a FENN."
At the end of the race, Keith told Dean to hang onto the ski.  Dean bought two more and put them on a plane in Cape Town – the first importation of ocean racing skis into Australia and a purchase that would signal the start of Oceanpaddler.
At the same time Dean forged a relationship with a major men's magazine and the Australian Ocean Racing Series was formed. "When I brought the three skis back I didn't really know what I was going to do with them as there was no ocean racing series in Australia and the couple of distance events that did exist still required the use of SLSA skis. 
"These skis were longer, lighter, thinner and a hell of a lot faster, so I started a race for them!"   The first Australian Ocean Racing Series event (The Men's Health Ocean Racing Series) was held at Balmoral Beach in 2002 with another seven races throughout the country that summer.
"We had pretty good support through Men's Health but it was a lot of work to set up and some events saw only 14 competitors turn up!. There was no interest from Canoeing or SLSA in our events, and to be honest, that was disappointing for me."
Dean is very proud of the status of ocean ski racing today, and Oceanpaddler's exciting 16-race, five state Shaw and Partner National Series that attracts hordes of enthusiastic paddlers, most racing ocean skis.
"We get 500 paddlers plus at events.  I love that everyone is so passionate about the sport, but why wouldn't they be?  It's a sport where they can race from a teen through to a veteran.  It's a sport for life, is great for your core, great for your aerobic fitness, and kind to your knees, and importantly has a camaraderie and community like no other," said Gardiner.
Yanda Morison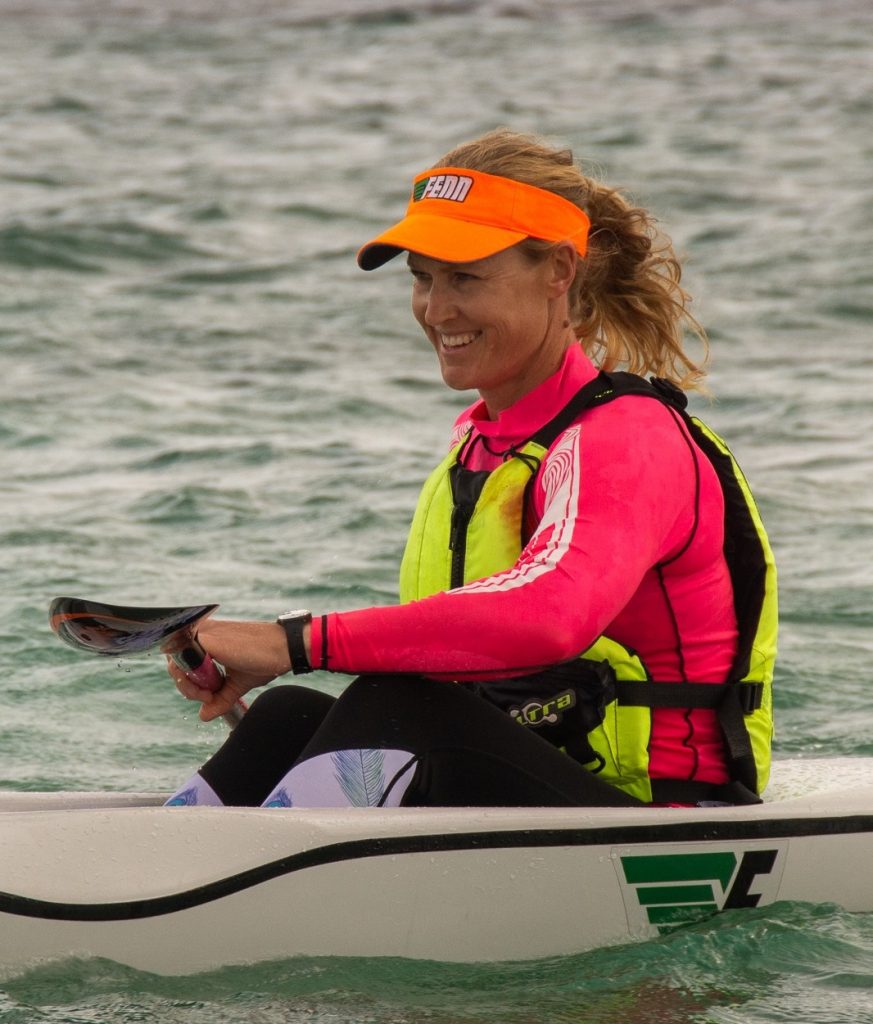 Olympian Yanda Morison (nee Nossiter) has represented Australia at two Olympic Games in the sport of sprint kayaking, racing at Atlanta in 1996 and Sydney in 2000 in Australia's K4 sprint kayaking squad. A member of national team for 6 years, Sydney based Yanda trained at the NSW Academy of Sport, and raced at many world regattas and numerous world championships for her country.
Yanda competed in surf life saving and in 1999 won the Mixed Double Surf Ski Gold Medal at the Australian Surf Life Saving Championships. During her time as an elite kayaker Yanda raced Outrigger Canoes winning back to back titles at the 1997 and 1998 Wahine O'Ka Kai Molokai Outrigger event with the Australian Riggeroos team headed up by Lisa Curry.
Following her retirement from Olympic competition, Yanda turned her talent to ocean ski racing and in both 2004 and 2005 won the iconic 27km downwind race, The Doctor, from Rottnest Island to Perth. She later went on to compete in Surf Boats for 10 years, winning a Gold Medal in the Open Women's Surf Boat event at the 2012 Australian Surf Life Saving Titles.
She is passionate about ocean racing, and runs Ocean Paddler with Dean. Yanda is responsible for pulling together the nuts and bolts of every event to ensure competitors get to the start line and have a sensational, yet safe, race experience on the waters off the Australian coastline.
Yanda is a Level 2 Kayak Coach and accredited Personal Trainer, specialising in technical coaching for paddling disciplines. She lives in Sydney, is married and is the mum of two boys.