The biggest, richest and most exciting week of surf ski racing is back in 2023.
$180,000+
in CASH & PRIZES
Entries for The Doctor will be capped at 700 entries. 
When you select the ENTER button you will be redirected to the registration home page. Ensure you read all the information on the home page prior to registering for the events. (If viewing from a mobile device, scroll down to read the information).
If entering a DOUBLE only one participant is required to select and pay for double entry to the events. Both participant details will need to be completed.
If you miss out on booking the barge for transport of your craft to Rottnest Island for The Doctor event during the registration, please use the link above to add your name to the waitlist.
Fenn West Coast Downwinder
$25,000
Dr Benjamin Hewitt Sunset Surfski Series Race #2
$5,000
Dr Benjamin Hewitt Sunset Surfski Series Race #3
$5,000
Shaw and Partners Dash for Cash
$15,000
Shaw and Partners Doctor + Race One Hot Spot
$50,000

Shaw and Partners WA Race Week Bonus Prize Money & Prizes

'Win a Ski a Day in WA'  Giveaway – 7 Skis to be won

$80,000
*** The program will be updated and may be subject to change. 
The Shaw and Partners WA Race Week is a collaboration of events held over a week in Perth, Western Australia. The race week is a mini series within the Shaw and Partners Australian Ocean Racing Series, where points are awarded for each event with overall champions crowned across the categories. 
WA Race Week is made possible by the ongoing support of Shaw and Partners Financial Services who are the naming sponsors of WA Race Week and the Australian Ocean Racing Series. 
The individual events are run by a number of organisations as listed below.  Information on each event can be found on the individual event websites.  
The Doctor 2023 Start Time
The Doctor event on Saturday 25th November 2023 will be starting earlier than previous years. All competitors will need to be checked in on Rottnest Island (start location) by 10am. If travelling to Rottnest Island with Rottnest Fast Ferries (our preferred ferry) ensure you book the 7.30am ferry departing from Hillarys Marina. Click here for ferry information.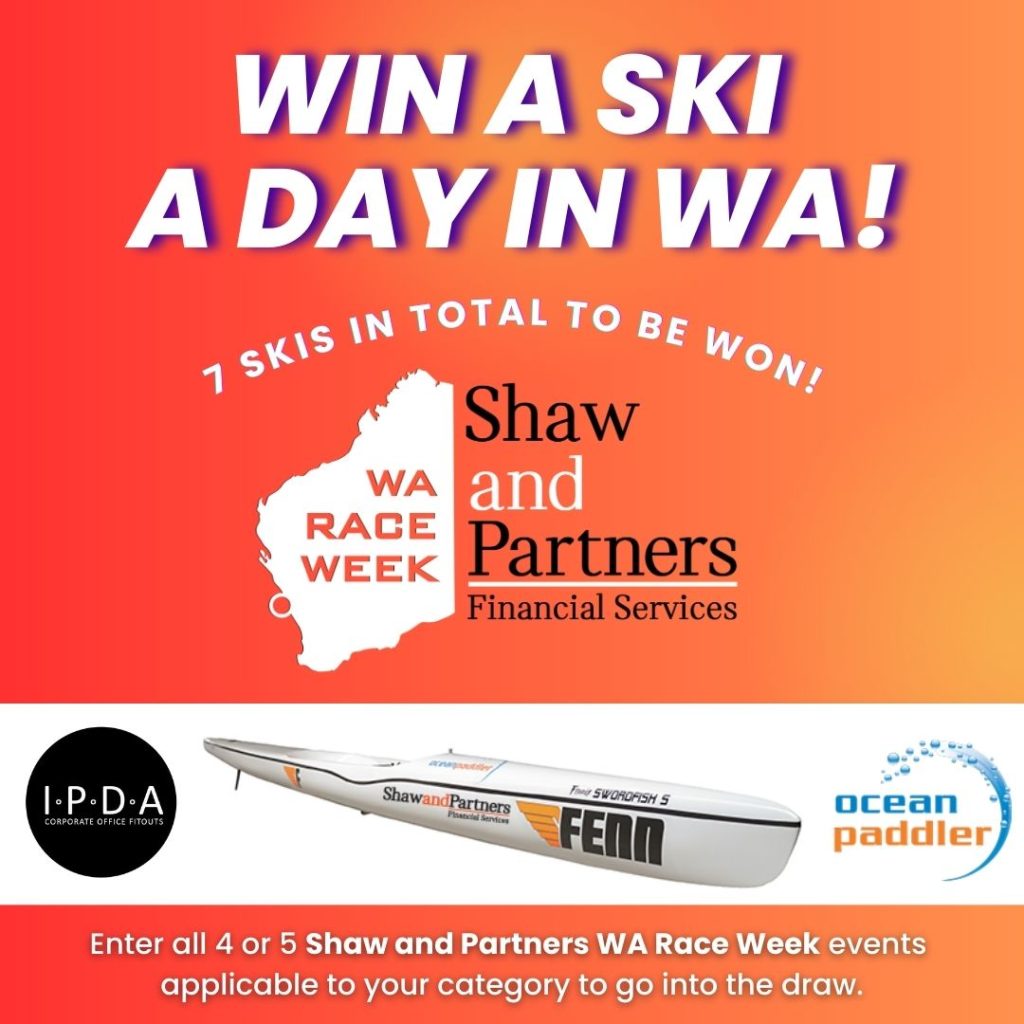 ---
You must enter all 4 or 5 race week events applicable to your category to go into the draw. We will provide the days and times we will be drawing the Ski Giveaway when we release the final program. You must be present at the time of the draw to receive the ski. 
Click on the WA RACE WEEK PROGRAM button above for the full day to day program. 
Time
Activity
Location

Saturday 19th November 2022

2pm Race Start

Hosted by In

dian Ocean Paddlers.24km downwind race from Port Beach, Fremantle to Sorrento Beach.

Port Beach, Fremantle to Sorrento Beach

Sunday 20th November 2022

4pm

Shaw and Partners WA Race Week Welcome BBQ

FREE event for WA Race Week competitors.

Finally after 2 years the Shaw and Partners WA Race Week is back! Help us celebrate the return of a great week of paddling in WA.

Sorrento SLSC

Monday 21st November 2022

7 – 9.30am
Shaw and Partners WA Race Week Surf Ski Clinics
Hosted by event sponsors and star athletes followed by Free Breakfast at Sorrento SLSC, proudly sponsored by Shaw and Partners.
Sorrento SLSC

Tuesday 22nd November 2022

5pm Race Start

Dr Benjamin Hewitt Sunset Surfski Series Race 1

Hosted by City of Perth SLSC.
11km downwind race from Port Beach, Fremantle to City Beach.

Port Beach, Fremantle to City Beach

Wednesday 23rd November 2022

4pm

Shaw and Partners Nipper Clinic with the Legends of Surf Life Saving

A FREE 90min clinic for Nippers with the Legends of Surf Life Saving.

Numbers are capped at 500 so please book early.
REGISTER HERE.

City of Perth SLSC

Thursday 24th November 2022

5pm Race Start

Dr Benjamin Hewitt Sunset Surfski Series Race 2

Hosted by City of Perth SLSC.
11km downwind race from Port Beach, Fremantle to City Beach.

Port Beach, Fremantle to City Beach

Friday 25th November 2022

8am

Shaw and Partners Dash for Cash
Surf Ski Sprint Race

Plus FREE Breakfast (9am-10am) for WA Race Week competitors.

$15,000 Cash up for grabs in the richest surf ski sprint race in the world.
Rego at 7am at Sorrento Beach SLSC.

Presentations will take place immediately after the event on the beach.

Sorrento Beach
Rego @ 4.00 – 6.00pm
Briefing @ 6pm
Registration and Compulsory Briefing for the Shaw and Partners Doctor.
Sorrento SLSC

Saturday 26th November 2022

 

Shaw and Partners Doctor

The Finale of the Shaw and Partners WA Race Week. 27km from Rottnest Island to Sorrento Beach.

Rottnest Island to Sorrento Beach
After race
Food and drinks to celebrate after the race at Sorrento Surf Club.
Sorrento SLSC
From approx 6pm
Presentations for the Shaw and Partners Doctor and WA Race Week.
Sorrento SLSC