Australian Ocean Racing Series
We are excited to announce the 2021 Shaw and Partners Australian Ocean Racing Series.
 
The Australian Ocean Racing Series (AORS) is a national ocean racing series attracting competitors across a number of ocean racing disciplines including Ocean skis, Surf skis, Stand Up Paddleboards, Prone Paddleboards and Outrigger Canoes.
The 2021 series will comprise of sixteen events and will showcase the largest and most successful ocean racing events in the country, amongst them the iconic Doctor, the 20 Beaches Ocean Classic and the Manly Wharf Bridge to Beach to name a few.
We are thrilled to have the ongoing support from Shaw and Partners Financial Services as the naming sponsor of the series.
More info on prize money coming soon.
Watch the Shaw and Partners AORS Series Launch Live Announcement
AORS Events 2021 (Draft List)
Below is the draft list of events for the 2021 series. Please note that some events are still pending approval and this list may change. Keep an eye on the event websites and we will make announcements once the events are fully approved.
Events are classified as either Premier, Major or Series events for the purposes of the overall AORS point score. Further details explained below.
#
Date
Event
Location
Type
1
Sun 21st Mar
Manly Wharf Bridge to Beach
Sydney, NSW
Major

Voost Shaw and Partners Forster Race Weekend

2

 Thur 13th May

Voost Nine Mile Cup

Forster, NSW

Series

3

Sat 15th May

Shaw and Partners Forster Ocean Classic

Forster, NSW

Premier

4
Sat 17th July
Shaw and Partners Hells Gates 38
Noosa, QLD
Series
5
Sat 28th Aug
SA Ocean Paddling Race
Adelaide, SA
Series
6
Sat 11th Sept
The Chucky
Sydney, NSW
Major
7
Sat 25th Sept
Gold Coast Classic
Gold Coast, QLD
Series
8
Sat 16th Oct
Shaw and Partners North Bondi Surf Ski Classic
Sydney, NSW
Major
9
Sat 6th Nov
Surf Safari
Hobart, TAS
Series
10
Sat 6th Nov
Mandurah Duel
Mandurah, WA
Series

Shaw and Partners WA Race Week

11

Sat 20th Nov

Fenn West Coast Downwind

Perth, WA

Major

12

Tue 23rd Nov

Dr Ben Hewitt SSS Race #1

Perth, WA

Series

13

Thur 25th Nov

Dr Ben Hewitt SSS Race #2

Perth, WA

Major

14

Sat 27th Nov

Shaw and Partners Doctor

Perth, WA

Premier

15
Fri 3rd Dec

Dr Ben Hewitt SSS Race #3

Perth, WA
Series
16
Sat 11th Dec
Shaw and Partners 20 Beaches Classic
Sydney, NSW
Premier
This year the AORS will follow the International Canoe Federation (ICF) categories for single skis (but only in 10yr increments not 5yrs). 
Categories – Male and Female of the following:
Competitor's age category is based on the age bracket they are turning in the 2021 calendar year. Your age as of 31/12/21.
For example: 
The first year, a junior competitor can compete in the year in which his 15th birthday falls and the last year he may compete, as a junior, is the year in which his 18th birthday falls. That is they must be 15-18yrs as of 31/12/21.
A Master competitor (Over 40 and above categories) can compete in a Masters event in the year he or she reaches the lower limit of the age category, i.e. can compete in the 40-49 age group in the year of his or her 40th birthday.  That is they must be 40-49 as of 31/12/21.
All competitors are automatically entered in the Open Ski category of their discipline. For example a 45-year-old Ski Paddler enters the Over 40 Ski (40-49yrs) category he will also be entered in the Open Ski category. 
Competitors can only enter one category. For example a 50 year old entered in the SLSA Ski is not eligible for Over 50 Ski (50-59yrs) points and prizes, only SLSA Ski and Open Ski.
The events are rated as Premier, Major and Series (as outlined in the list above).
To get maximum points competitors will need to do 8 events. 
    2 x Premier
    3 x Major
    3 x Series
Premier events can be used as Major events and Major as Series events and the points adjusted accordingly (halved). You would only do this if you have the required amount of races in the higher rating.
Premier events have double points to a Major event and Major events are double points on Series events. You can use your Premier events as a Major event and Major event as Series event points.  They will be halved if used as the lesser rated event.
To obtain your maximum point score for the AORS you must compete in two Premier, three Major events and three Series events. You can compete in all the events if you like, however, we will take your highest points from two Premier, three Major and three Series events. 
****If two or more competitors end up on the same total AORS adjusted points then for The Doctor event will be the deciding result.
**** If we are forced into a lockdown situation because of Covid where two or more states cannot travel, the current leaders of the series in the various categories will be deemed the winners and place getters for the AORS season. 
PREMIER EVENTS
1st – 2000
2nd – 1960
3rd – 1926
4th – 1898
5th – 1876
6th – 1858
7th – 1844
8th – 1834
9th – 1828
10th – 1826
11th onwards – two point gap between places 1824, 1822, 1820 etc
MAJOR EVENTS
1st – 1000
2nd  – 980
3rd – 963
4th – 949
5th – 938
6th – 929
7th – 922
8th – 917
9th – 914
10th – 913 
11th onwards – one point gap between placings 912,911,910 etc
SERIES EVENTS 
1st – 500
2nd – 490
3rd – 482
4th – 476
5th – 472
6th onwards – one gap point between placings 471, 470, 469 etc
Shaw and Partners 20 Beaches Ocean Classic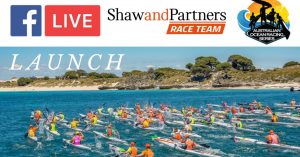 Tune in at 6.30pm Thursday 4th March to watch the exciting news on the upcoming 2021 Shaw and Partners AORS.
Read More »