Manly Wharf Bridge to Beach
supporting the Fragile X Association of Australia
Proudly Sponsored by Manly Wharf
Sunday 19th February 2023
Here's a fantastic celebration of the Manly Wharf Bridge to Beach race supporting Fragile X for the 10th year. Many thanks to Fragile X for producing for capturing this amazing race.
Click on Event Information for Categories, entry fees and race day schedule.
Donations to Fragile X in 2023

For the tenth year running, Shaw and Partners Financial Services has generously committed to match, dollar for dollar, donations made to the Manly Wharf Bridge to Beach event, raising much needed funding for Fragile X Association of Australia*.  
If we as a paddling community can raise over $10,000, Shaw and Partners will match this with another $10,000. This means that for every $1 that you donate, you are in fact, effectively donating $2 and your donation is tax deductible.
This will help fund the specialist family support service offered to Fragile X families across Australia. 
Help us reach our target of $20,000 for Fragile X!
Participants can donate to Fragile X when entering online.
*Donations will be matched to a cap of $10,000
 Race 1
2023 Shaw and Partners Australian Ocean Racing Series
The Manly Wharf Bridge to Beach is one of Australia's largest open water paddling events and is regarded as one of the most spectacular in the world. Participants marshal at Blues Point Reserve for a spectacular sunrise over Sydney Harbour. Starting at the Sydney Harbour Bridge, they then paddle past the Sydney Opera House and hug the northern shores of Sydney Harbour taking in sights such as Taronga Zoo, Bradley's Head, Clifton Gardens, North Harbour Reserve and both South and North Head on their way to the beautiful Manly Wharf where the finish is.
The event supports and raises money for the Fragile X Association of Australia.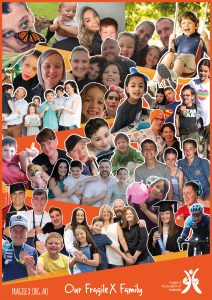 "Many thanks to the paddlers, Oceanpaddler and Shaw and Partners Financial Services for supporting Fragile X Association of Australia through Bridge to Beach fundraising for 10 years.  An awesome commitment!
The funds raised through Bridge to Beach each year – and matched by Shaw and Partners * – help fund our FX Family Support Counsellor to provide unique support to people who are navigating life with Fragile X.  Specialist counselling for individuals living with Fragile X, and their carers and family members, can make a real difference in quality of life through providing information and referrals, connection with peers,  and in addressing mental health and daily living challenges.
The FX Counsellor is an essential support for hundreds of families across Australia who are living with Fragile X.
FRAGILE X is a family of conditions, caused by an inherited genetic alteration to the Fragile X gene. These conditions are all complex and lifelong.
Fragile X syndrome causes developmental disability and difficulties with learning, behaviours and daily living. Many people living with Fragile X also have ADHD and autism spectrum disorder and are likely to experience medical problems such as epilepsy.   Around 1 in 3600 males/4000-6000 females are living with Fragile X syndrome.
People who are carriers for Fragile X can experience health, reproductive and neuropsychiatric issues – for example, early menopause for women or neurodegenerative condition with Parkinson's type symptoms for men in later life. In the general population around in 200 females/800 males are carriers for Fragile X. 
YOUR DONATION made in the Bridge to Beach online registration helps to make sure the Fragile X specialist counsellor service is available to make contact with Fragile X families on the Northern Beaches and right across Australia – by Zoom, phone, email, message or face to face. 
FRAGILE X ASSOCIATION OF AUSTRALIA  – We're a local charity based on the Northern Beaches, and we've been serving the Fragile X community across Australia since 1989.  
Learn more about Fragile X here: www.fragilex.org.au 
Many thanks for your support!
* Matched $ for $ to a cap of $10,000 in 2023 "