Oceanpaddler has partnered with Paddle 2 Fitness to bring you the very best training programs for surf ski paddling, racing and to help you reach your paddling goals.
Paddle 2 Fitness Training Programs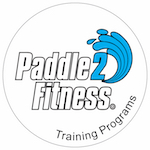 Started in 2008 by Julian Norton-Smith (former national and world champion), Paddle 2 Fitness helps paddlers of all levels improve technique, strength, endurance and overall fitness. Whether you're a beginner or seasoned paddler, Julian uses his 35+ years of on water experience and research from leading experts in the field to develop a range of programs. With a professionally written and balanced training program, we will calculate your current training paces (KM/H and HR) which will give you three training levels to train at. Our daily training sessions make your life simple by giving you the number of sets, minutes and training levels. All you have to do is paddle! No matter where you are geographically, Paddle 2 Fitness programs will give you the structure and support to help achieve your goals.
How Do I Get Started?
Simply choose any one of the programs below and you are on your way to becoming a stronger, more efficient paddler. If you have a 20-30km race more than 3 months away then choose RACE READY 20-30km, if you are looking for daily paddling sessions with no specific race in mind then choose PEAK PERFORMANCE or if you would like to attend our weekly squad sessions then choose SQUAD SESSIONS.
Race Ready Program
Our RACE READY programs will have you ready to race in 12 weeks. These programs give you the flexibility to train when you can, with 3-4 Monday – Friday sessions, 1 weekend session and 1 weekly cross training session included.
Be race ready in 12 weeks
Paddling programs set weekly
Complete the sessions in your own time
Up to 4 paddling and 2 cross sessions / week
Access to 4 x Paddle 2 Fitness Podcasts
Access 4 x CLUB HOUSE videos
SELECT YOUR DISTANCE TARGET
Peak Performance Program
MOST POPULAR
Our PEAK PERFORMANCE program is for paddlers looking for 7 days a week 364 days a year training support and guidance. This program targets all race distances, with daily training sessions that will have you race ready and at peak performance all year round.
Daily paddling sessions set weekly
Focus on all RACE READY distances
Up to 6 paddling sessions / week
Various cross training sessions available
Access ALL Paddle 2 Fitness Podcasts
Access ALL CLUB HOUSE videos
$465 annually

OR
$9.95 per week
Squad Sessions
Our SQUAD SESSIONS are for local paddlers in SE Queensland who would like to attend our weekly squad sessions. Paddlers can attend unlimited weekly sessions (Gold Coast / Brisbane) as well as attend any downwind skills sessions provided. Paddlers will also follow and have access to the PEAK PERFORMANCE program. All levels welcome, especially beginner / developing paddlers
Attend unlimited weekly squad sessions
Up to 9 weekly squad sessions available
Includes bi-monthly downwind clinics
Available Gold Coast and Brisbane, Australia
Includes personal coaching and video analysis
Includes FULL access to PEAK PERFORMANCE Program