VÖOST Shaw and Partners Forster Race Week
Thursday 13th – Saturday 15th May 2021
Please check the latest event updates on the link below. Any changes to the program will be posted here. 
Race 1 course direction will be start at Forster Beach and finish at Black Head.
Further updated on Race 2 will be provided soon.
Following on from our hugely successful Shaw and Partners WA Race Week, we decided that something similar needed to be done on the East Coast of Australia. This year we have introduced a three-day program of events incorporating two races and a training session with the view to expand in following years. We are optimistic that the VÖOST Shaw and Partners Forster Race Week will follow in the steps of the successful Shaw and Partners WA Race Week in years to come. 
Date
Event
Location

 Thur 13th May

2pm

VÖOST 'Training with the Stars'
Forster Beach

 Thur 13th May

6pm

Shaw and Partners presents War Stories from the Water
The Sicilian, Forster

Fri 14th May

1pm

Race 1

Shaw and Partners Nine Mile 13km

Black Head to Forster Beach (or reverse)

Sat 15th May

1pm

Race 2

Voost Forster Ocean Classic 20km

Elizabeth Beach to Forster Beach (or reverse)
**** Sunday 16th May 2021 will be used as a spare day should weather conditions not be favourable for the previous 3 days. 
Prior to Thursday Oceanpaddler is holding the Forster Paddling Camp from Monday 10th to the morning of Thursday 13th May. More details available here. 
Below is an outline of the proposed program. Click here for the full program and details.
VÖOST 'Training with the Stars' – Thursday 13th May 2021 at 2pm 
Learn from the best in the business as they take you through the nuts and bolts of Ocean Paddling. The focus in this session will be entering and exiting the surf zone and how to hook into ocean runs. This is a free event proudly sponsored by Voost.
Shaw and Partners presents War Stories from the Water – Thursday 13th May at 6pm
Join us for a welcome dinner and drinks at The Sicilian, located on Forster Main Beach. Ocean racing star-studded guest speaker panel, 3-course meal and drinks. $25 per ticket available to purchase during online entry until sold out.
Race 1: Shaw and Partners Nine Mile – Friday 14th May 2021 at 1pm – Black Head to Forster Beach 13km
Depending on wind conditions this event will run either Black Head to Forster (preferred) or Forster to Black Head covering 13km. In unfavourable conditions, we will have an alternative course.
Presentations Race 1 and Event Briefing Race 2 – Hamilton's Oyster Bar – Friday 14th May at 4.00-6.30pm
Join us for presentations and race briefing at Hamilton's Oyster Bar on the banks of Wallis Lake. Book table and enjoy a meal and some drinks. See full program for more info.
Race 2: VÖOST Forster Ocean Classic –  Saturday 15th May 2021 at 1pm – Elizabeth to Forster Beach 20km
This event will run from Elizabeth Beach to Forster Beach. Should wind be unfavourable the course will be run in reverse, use the Blackhead to Forster Course, triangular course off Forster or in extreme conditions Wallis Lake.
Contingency Courses:
If serious weather conditions develop outside of our operating parameters on the ocean, all events will move to a course on Wallis Lake.o
Both races will use the AORS Categories and AORS points will be awarded.
Male and Female:
Category note: For prizes and awards there must be at least 5 entries in the category. Where there are less than 5 entries then those competitors will be moved to the next most relevant category.
All entries will be taken online and will close at 5pm on Thursday 13th May. There will be no late entries taken on race day.
EARLY BIRD PRICING
For entry up to Friday 7th May 2021.
| | | | |
| --- | --- | --- | --- |
| Event | Single Entry Fee | Junior Single Entry Fee | Double Entry Fee |
| Race 1:  Shaw and Partners Nine Mile | $65 | $40 | $95 |
| Race 2: VÖOST Foster Ocean Classic | $125 | $90 | $165 |
| Both Races discount price  | $170 | $110 | $240 |
STANDARD PRICING
For entry from Saturday 8th to Thursday 13th May.
| | | | |
| --- | --- | --- | --- |
| Event | Single Entry Fee | Junior Single Entry Fee | Double Entry Fee |
| Race 1:  Shaw and Partners Nine Mile | $115 | $90 | $145 |
| Race 2: VÖOST Foster Ocean Classic | $175 | $140 | $215 |
| Both Races discount price  | $270 | $210 | $340 |
Elite Entry Fee – Single Skis only (in addition to above entry fees)
The Elite Category is for those competitors that wish to be eligible for prize money. Click here for prize money.
Open and Masters $50, Under 18/Under 23 $30
(If the brand of ski you are paddling is one of the sponsors of the event you are exempt from this fee as they will pay it.) Our sponsors are as follows: Fenn, Epic, Nordic Kayaks (NK),  Knysna Kayaks and All Wave.
Postponement due to COVID-19 
If the event is not able to proceed due to ongoing restrictions surrounding the COVID-19 pandemic the event will be postponed to 2022. Entrants should take this into consideration when entering.
If the event is postponed all entries will be carried over to the 2022 event date.  If you require a refund, please submit a request in writing within 2 weeks of the postponement. Email contact@oceanpaddler.com
Our normal Refund and Cancellation Policy applies to all other refund requests as outlined below. 
Entry Refunds & Cancellations
Entry cancellations can be made up to two weeks before the event date when a refund (less 20% administration fee) will be made. Refunds will not be given after this date. Please send requests for refunds in writing to contact@oceanpaddler.com. If the event has to be cancelled due to weather conditions or natural disasters or any other reason so deemed by the organisers, the event will be rescheduled where possible and no refunds will be issued.
Please ensure you are familiar with the equipment requirements as outlined below. 
Lifejacket

All Lifejackets must be an approved Australian Standard AS 4758 or International Standard ISO 12402 Lifejacket.
All surf ski, outrigger, plastic and sea kayak paddlers must wear an approved minimum Level 50 / Level 50S Lifejacket. Your lifejacket must be Hi-Vis or a Hi-Vis top is to be worn over the top of the lifejacket.  No bum bag inflatable lifejackets are permitted.
Prone paddleboard paddlers only are permitted to wear an approved Lifejacket Level 100/150 bum bag inflatable lifejacket. A Hi-Vis top must be worn.

Safety Leash – All competitors must be attached to their craft via a safety leash. 
Flare – All competitors must have at least one current or unexpired orange smoke flare attached to their craft/person. The flare should be easily accessible when on the water. Ensure you are familiar with how to use a flare. These will be available to purchase when entering online.
Mobile Phone (using SafeTrx App) or VHF Radio or PLB (Personal Locator Beacon) – All competitors are required to take one of these with them during the race. If using a mobile phone the SafeTrx Event tracking app is required and the event channel will be given to those using VHF Marine Radios. Click here for race day instructions for SafeTrx Tracking App.
Whistle – All competitors are required to have a pealess whistle attached to their Lifejacket.
Timing Chip – All competitors must wear the electronic timing chip on their ankle (right or left ankle). This will be provided at registration.
********Scrutineering of compulsory equipment may take place at registration on race morning. Please ensure you have the correct equipment
All competitors must abide by the following race rules:
Wear / carry the mandatory equipment as outlined above 
Register for the event on the morning of the race and collect the timing chip
Attend the pre-race briefing prior to the start
Stop and help any other competitor/s in difficulty whilst on the course
Follow the event course at all times
Follow the direction of water safety officials at all times 
If a competitor withdraws mid-event they must notify the event officials
either in person or by phone to be formally withdrawn from the event. Official contact numbers will be available at registration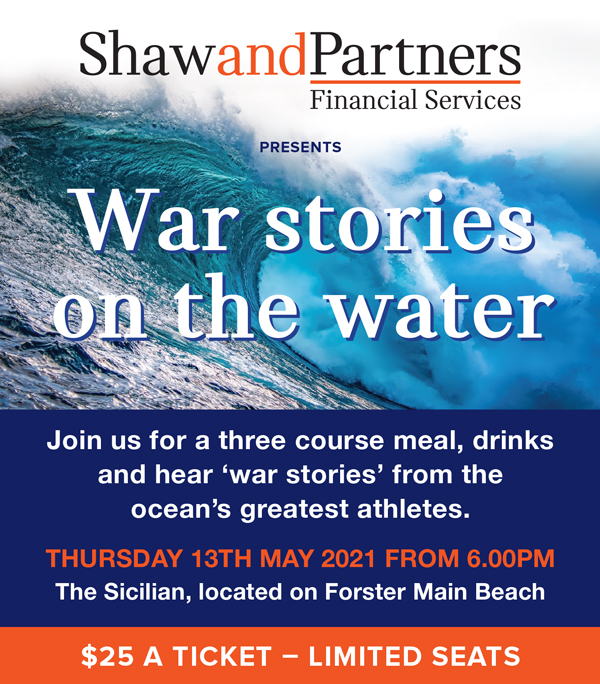 BOOK YOUR TICKET WHEN ENTERING ONLINE OR EMAIL OCEANPADDLER.
1 Palm Street, Tuncurry NSW 2428
Friday 14th May – 4pm onwards
Join us on Friday 4pm onwards after for the Shaw and Partners Nine Mile presentations and the Voost Forster Ocean Classic Race 2 briefing.
Hamilton's is an Iconic Restaurant on the banks of Wallis Lake. It is the home of East 33 Oysters and one of our favourite locations when visiting this region. Make sure you book in advance through the link below if you wish to book a table before, during or after the race presentations and briefing on Friday evening.