Craft Transport to Rottnest Island
Oceanpaddler organises a barge to send the craft over to Rottnest Island. Numbers are limited. You may also choose to make your own arrangements. Rottnest Fast Ferry can take a small number of craft – you will need to call them to book this in. Ferry info can be found on the ferry tab. 
Barge loading will take place on Friday afternoon prior to the race at Fremantle, Perth. Further info will be available closer to the time. 
Bookings
You must book and pay for barge transport during the online entry process. Numbers are limited and will be available until sold out. Ensure you do this early so you don't miss out. 
Cost
TBA
Requirements
You must bring your own craft to the barge or organise someone to do this for you.
It is a big job getting all the craft on the barge so please be patient when we do this.
For skis and OC1s all rudders must be removed prior to loading
For SUP's all fins must be removed
Bring old straps to tie your craft on (you may not get these back)
Bring some light padding to the barge such as old bits of foam etc
NOTE: If you take your craft in a cover you must arrange for the cover to be taken back to the mainland yourself. We will not be taking anything back to the mainland for you.
The barge leaves Fremantle very early on race morning and will arrive at the main jetty. When you arrive on the ferry you will then head over to the barge and unload your craft. You are responsible for ensuring your own craft is taken off the barge.
More detailed information on Barge Loading will be provided closer to the event.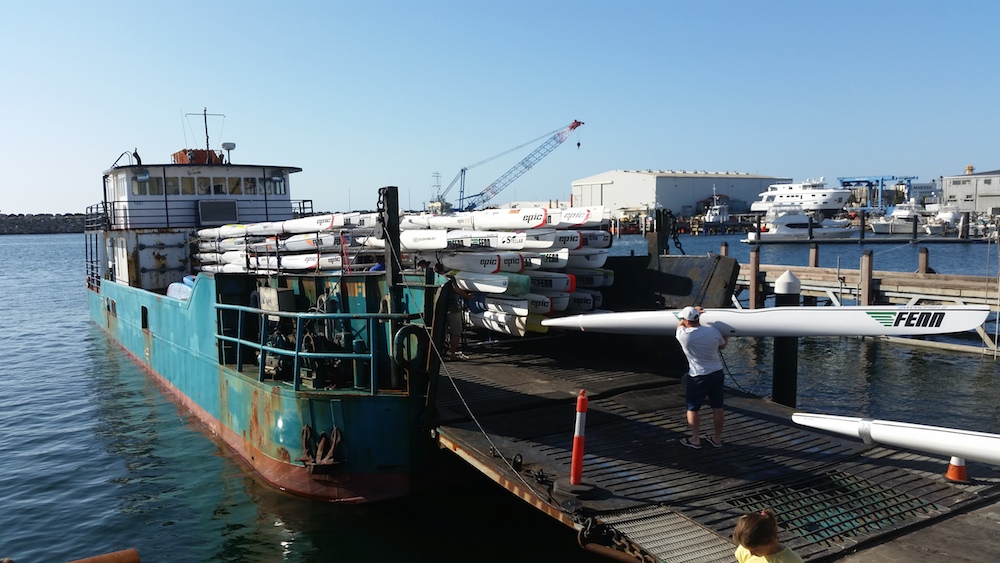 Barge Loading Information
Time: 2.30pm to 5pm on Friday 25th November. Please do not come later than 5pm. Reminder that the race briefing is on at 6pm at Sorrento SLSC. 
Staging Area – where you need to go: Port Beach Southern Carpark on Port Beach Road  – where the Fenn West Coast Downwinder started on Saturday and the SSS2 will start tonight. See map below and drop pin location is 
https://maps.app.goo.gl/FkerBcG4Btekb1vU6
Requirements
All rudders must be off craft
Bring 2 x straps to use 
Process:
Go to staging area (Port Beach carpark as detailed above)
You will be given a ticket and name marked off the list
Groups will be sent to the barge location when directed
Please be patient as it is a big job
Anyone that goes directly to the barge will be turned away. 
We will only be accepting those that have booked and paid for the barge at 2.30pm.
If we have space available we will take more. You must come at 4.30pm and bring $80 cash. 
On Rottnest on Saturday
When you arrive on Rottnest please help unload your skis. 
Please note whilst all care is taken, no responsibility is taken by Oceanpaddler for any damage or loss in regards to barge transport.