On Water PHOTOS – Manly Wharf Bridge to Beach Sponsored by Investec
March 3, 2020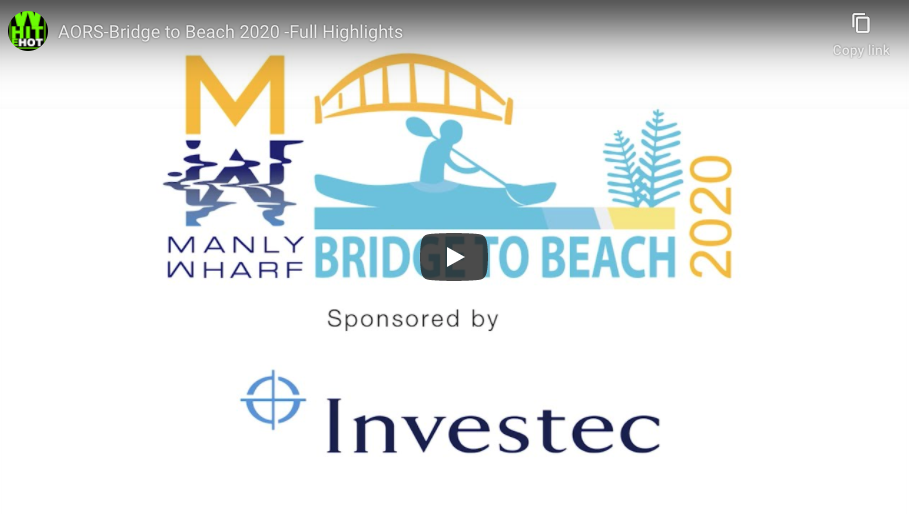 Manly Wharf Bridge to Beach Sponsored by Investec
April 19, 2020
The West Coast Passage
"The action or process of moving through or past somewhere on the way from one place to another".
Written by Dean Gardiner
I have always been inspired by those that make the effort to seek out new places, move from their comfort zone into a place where they have never been before, motivate others to do the same.
In some ways I like to think of myself as one of those people.
So it was that one quite evening sitting on a couch watching a very uninspiring television show the West Coast Passage was born.
"Why don't I get a group of people together and do a downwind paddle from Perth up to Jurien Bay" I thought. For those that don't know, this stretch of water consistently produces incredible downwind conditions and there just happens to be a little town spaced at distances that fit perfectly into a six day journey.
We had a course, we had the conditions, we had the places to stop each day, we had support in WA from my mate Muz and his truck. What I needed now was a good crew to take on this expedition.
The trip had room for ten people. We were restricted with numbers by what accommodation was on offer and the transport of people from place to place. So ten it was, with Muz and I that made twelve.
I also needed to put some criteria in place to make sure we got a group of paddlers that were capable of such a trip. This was not going to be easy, two hundred kilometres over six days in some pretty remote parts of the WA Coast.
Paddlers had to be competent in big downwind conditions and easily be able to average 10KPH over an extended period of time.
The waters of Middle Harbour in Sydney play host to a dedicated group of paddling fanatics that are renown for their sense of adventure and their ability to get out in just about anything. Some of the paddlers in this group also like to push the boundaries, which to some may seem reckless at times.
Without trying to read too much like the scrypt to "The Dirty Dozen" , this bunch of social misfits was exactly the people we needed to take on this adventure.
So a quick Whatsapp message went out to "The Bally Boys" and within hours we had our inaugural Passage Crew.
The trip would start at the World's most famous race finish point, Sorrento Beach. The sand at Sorrento has been the maker and heart breaker of many who have competed in The Doctor over the last eighteen years.
The Crew
Sorrento to Yanchep 33k
Heading North the first landfall would be at Yanchep. Alan Bond brought Yanchep to the World in the seventies with an over the top theme park called Atlantis and an aspiring land development that never really took off.
Yanchep at present is now more famous for being the end point of Marmion Road. Fortunately for us it was also the exact distance we needed to get to on day one of this trip.
https://www.relive.cc/view/vPOpWoDXxRv
The wind took its time arriving and hadn't hit when the first of the group hit the water. Ever so slowly the runs built underneath our craft and by midway we were hooking into some very nice skates (as they call runs in the West).
The heat of the day and the fact that we paddled pretty flat water for the first ten of 33 kilometres took its toll on a few of the group and there were some concerned faces at the end.
Nothing that six beers and plate full or chicken parmy at the Two Rocks Marina couldn't fix.
Night one was spent at a cracking joint in Guilderton a few more kilometres North.
Balcony View in Guilderton of The Moore River
Yanchep to Guilderton 26k + 10K
The crew slept well on night one in our Guilderton Palace. We devised a handicap system for stage two which comprised of taking your five fastest one kilometre splits from day one. You then added them together getting the average then multiplying that number by the amount of kilometres for the next stage. This, we hoped, would give your expected time for the next stage.
We spent the morning taking in the delights of Guilderton waiting for the wind to build. Guilderton is a very cool little town that is pleasing to the eye and even easier to kick back.
On arrival at Yanchep the wind was pumping , "the sea was alive with white horses" as I heard someone once say.
The early markers kicked off, a couple of hours later and twenty six kilometres further up the coast, the group came together for the finish at the mouth of Moore River (Guilderton).
The finish at Guilderton
https://www.relive.cc/view/vevW7e3dJGv
Given that the conditions were good most of the crew decided to add another ten kilometres to the day and finish at Seabird. This was perfect in two ways, one it knocked ten kilometres off the next day's trip. Two, because The Seabird Tavern was where dinner was taking place.
https://www.relive.cc/view/v1OwML5jEEq
For those that have not travelled this part of the coast, the Taverns along this stretch are second to none. The Seabird is one of the best.
Night two was spent back in Guilderton with an early start planned for day three.
Seabird Tavern
Seabird to Lancelin 34k
We decided to break this day into two. The longest being the first leg through to Ledge Point. The second and the shortest would take us through to Lancelin.
The second leg can get a little tricky with some sections that break due to reef areas and a gap in the fringe reef further offshore.
https://www.relive.cc/view/veqzDL1N5BO
Once again the handicap worked well with all finishing leg one within minutes of each other.
An hour later the wind was pumping and we were back on the water making our way to where we would spend nights three and four.
Lancelin is the mecca for windsurfing and kite boarding which also makes it the mecca for downwind paddling.
https://www.relive.cc/view/vE6Jd1YBJgv
If you were going to take a picture or write a story about a classic West Australian crayfishing town then Lancelin is that town. A couple of offshore islands and some solid reef areas create the ideal anchorage for the hardy cray fishermen.
The accommodation at Lancelin did not disappoint. A beachfront property overlooking the bay and a short walk to The Endeavour Tavern.
Lancelin to Wedge Island 25K + 18K
This was the leg I was most looking forward to. Countless bombies and surf breaks dot this section. It is also the most remote part of this journey and a section of the leg is in the RAAF bombing range.
https://www.relive.cc/view/v7O9w1GxKLq
Fortunately for us no one got blown up by either RAAF Bomb or notorious west coast bombies.
One of our crew did suffer though. The Smurf , who had endured blisters for most of the trip finally succumbed to infections in his hands. His left in particular was now double the size of his right, this impacted heavily on his ability to paddle.
It was a long morning for the builder from the Northern Beaches as he hobbled into Wedge Island.
The Rig at Wedge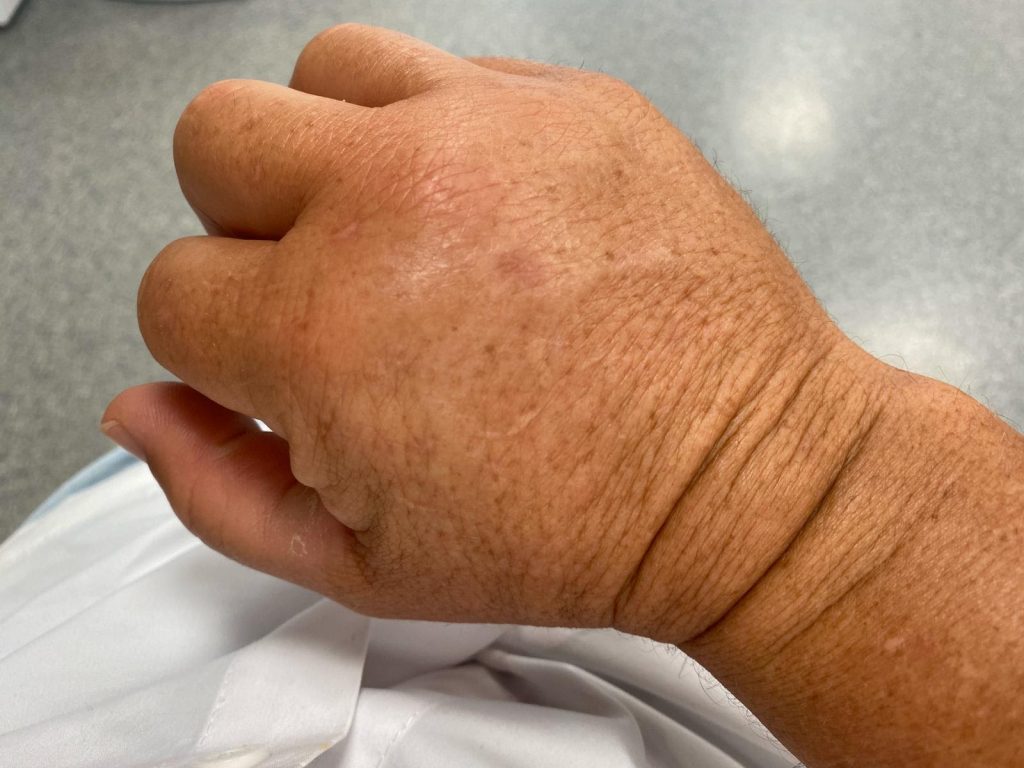 Smurfs Hand
Once again we decided to knock a little more off the total distance, so after a light lunch and a drink at Wedge and we were on our way to Grey.
https://www.relive.cc/view/vLqeNPxy8dv
To call Grey and Wedge towns is a massive overstatement , both are made up of tin shacks that were originally used by cray fishermen well before the coastal road went in. To get into these places even not so long ago meant an arduous drive over shifting sand hills and corrugated gravel roads.
We left our skis in the sandhills that night and made our way back to the Lancelin Palace. The Lancelin Pub was the location that evening to celebrate Smurfs victory over his condition and elements.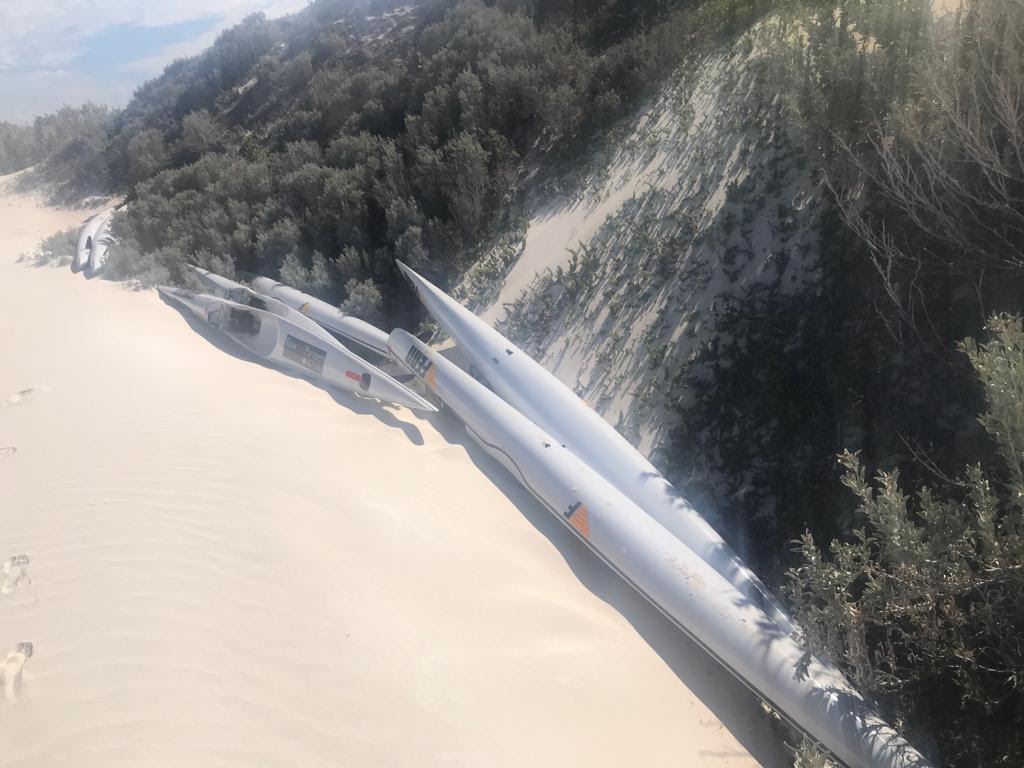 Fenns in the sandhills, Grey WA
Grey to Cervantes 24K +10K
We woke on this morning to a ripping Easterly Wind (offshore). Looking at the forecast this one was in for the day so it was going to be a grind.
Fortunately for us the coast in this section slopes slightly to the North West and there are big bays enroute. What this means is that from the middle to back end of each bay you can find crosswind/downwind sections that can be used.
The last and biggest bay into Cervantes offered some very good downwind sections over reasonably shallow water so there were some runs to be had. Smurf had been fussed over the night before by our chief medical officer and was back to full strength.
https://www.relive.cc/view/vPv4JodwB36
The last little push into Cervantes took its toll on a few of the paddlers as this section was hot and very flat.
After a lunch and rest at Cervantes, a decision was made to push on and make the next and final day really short as conditions were not shaping up too well.
The offshore wind had dropped and no sea breeze had arrived making for glassy conditions. After quite a hectic first leg trying to utilize the side winds, the afternoon paddle was enjoyable and almost soothing.
We finished up at a place with no name just a car park in the middle of nowhere giving us a great launch pad for a final push into Jurien Bay the following day.
https://www.relive.cc/view/vAOZBewypoO
Accommodation on our two last nights was thriving in the metropolis of Jurien Bay. As promised to the crew they would see a decline in the accommodations as the trip went on. The last house was shack compared to the previous two. I think I can speak for most on the trip, at that point it didn't really matter. Almost 200k under the belt and some fun evenings meant no one was going to be kept awake.
Jurien Bay Shack
Place with no name to Jurien Bay 15K
I don't have the final leg into Jurien on my GPS but I do have my walk back to get the car from the Southern end of town.
The paddle into Jurien was very flat. During the trip we had not paddled around or to any islands so it was decided to paddle out to one of them that protects the waters of Jurien Bay.
https://www.relive.cc/view/vZqNNgE3X3q
Jurien had never seen a bunch of wild men like our group that evening. Some of the crew got to sample some of the local fare in the way of Crayfish which were rare given that no one was fishing for them at that time.
It was a big task for all involved to complete this journey and the whole crew went above and beyond when it came to pushing themselves through some tough spots.
The Crew (all with creative nicknames)
Andrew "Wheels" Wheeler
Greg "Coops" Cooper
Dave "Smurf" Smith
John "Whinners" Whineray
Doug "Doug" Tucker
Paul "PK" Keating
Hayden "H" Folbig
Greg "GK" Kendrick
Carlos "The Span" Perez
Brendan "Brendo" Trewartha
Murray "Muz" Hughes