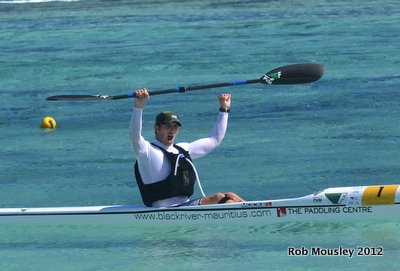 Photo credit: Rob Mousley, www.surfski.info
Fenn paddler Dawid Mocke of South Africa has defended his title winning back to back gold at the Mauritius Ocean Classic on the weekend. In what was a fast race from  beginning to end Mocke continued his dominance on the world stage.
Australian Fenn paddler Jeremy Cotter is back in fine form coming in 2nd behind Mocke against a strong field of international competitors. Fellow Australian paddler Will Bird is also showing form placing 7th behind a strong South African contingent.
Dean Gardiner and Dean Beament teamed up on the Fenn Elite Double to take out the doubles category.
Full race report and results can be found on Surfski.info. Click here.