The Shaw and Partners Australian Ocean Racing Series is back! The 2019/2020 series will kick off in August this year, and will showcase the largest and most successful ocean racing events in the country, amongst them the iconic Doctor, the 20 Beaches Ocean Classic and the Manly Wharf Bridge to Beach to name a few. We are thrilled to have the support once again from Shaw and Partners Financial Services as the naming sponsor of this year's series.
The Australian Ocean Racing Series (AORS) is a national ocean racing series attracting competitors across a number of ocean racing disciplines including Ocean skis, Surf skis, Stand Up Paddleboards, Prone Paddleboards and Outrigger Canoes.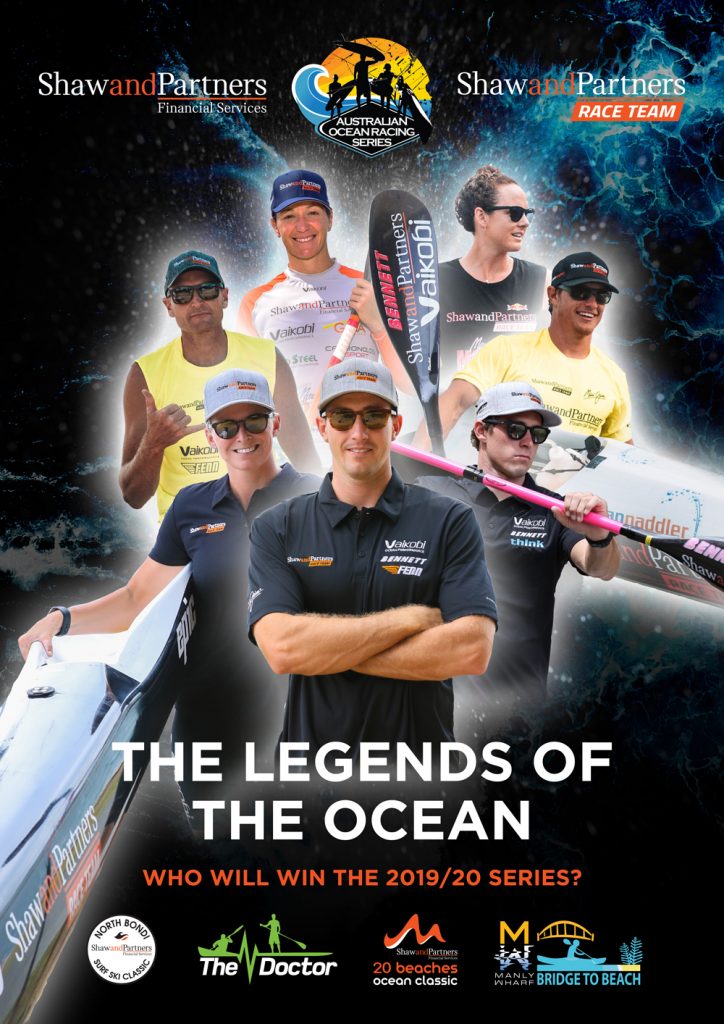 AORS Events 2019-2020
Updated 17th June 2019
Below is the updated draft list of events for the coming season. Please note that there may be additional events to add to the series. We will be updating this shortly.
Further details regarding the points score system and categories will be announced soon, so stay tuned.
Blue indicates Major Events.
#
Date
Event
Location

1

Sat 5th Oct 2019

Charles Stewart Memorial Cup

Sydney Northern Beaches, NSW

2
Sat 19th Oct 2019
Shaw and Partners North Bondi Surf Ski Classic
North Bondi, NSW
3
Sat 2nd Nov 2019
Surf Safari
Hobart, TAS

4

Sat 16th Nov 2019

Fenn West Coast Downwind

Perth, WA

5
Tue 19th Nov 2019
Triple S Sunset Surfski Series #1
Perth, WA
6
Thurs 21st Nov 2019
Triple S Sunset Surfski Series #2
Perth, WA
7

Sat 23rd Nov 2019

The Doctor

Perth, WA

8
Thur 28th Nov 2019
Triple S Sunset Surfski Series #3
Perth, WA

9

Sat 7th Dec 2019

20 Beaches Ocean Classic

Sydney Northern Beaches, NSW

10
Sat 1st Feb 2020
Great Ocean Paddle
Torquay, VIC
11
**Sun 2nd Feb 2020 (TBC)
Bridge to Beach Melbourne

Cancelled – see note below

Melbourne, VIC

12

Sun 23rd Feb 2020

Manly Wharf Bridge to Beach

Sydney Harbour, NSW
*** Bridge to Beach Melbourne – due to time retrictions this event will not be going ahead in 2020. We plan to run this event in 2021. We apologies for the inconvenience. Stay tuned for next year.
How the points work
There are 5 Major Events: The Charles Stewart Memorial Cup, Fenn Westcoast Downwind, The Doctor, 20 Beaches Ocean Classic and Manly Wharf Bridge to Beach. All other events including the Major events are a Series event.
To obtain your maximum point score for the AORS you must compete in three (3) Majors and three (3) Series events. You can compete in all the events if you like, however, we will take your highest points from the three Majors and three additional Series events. All Major Events events are considered Series events also. If you compete in all four majors your lowest points in one of the four races will be used and adjusted (halved) to a series event.
For Doubles to obtain maximum points the team need only compete in a dedicated Double ski event (TBA) plus (1) Major and two (2) Series events. Once again doubles can do as many events as they wish and there will be double categories in all events. This will enable paddlers to compete in both doubles and singles throughout the series.
The points will work on a sliding scale as listed below:
If two or more competitors end up on the same total AORS adjusted points then for 2019/2020 Season The Doctor event will be the deciding result.
MAJOR EVENTS
1st – 1000
2nd – 980
3rd – 963
4th – 949
5th – 938
6th – 929
7th – 922
8th – 917
9th – 914
10th – 913
11th onwards – one gap point between placings 912,911,910 etc
SERIES EVENTS
1st – 500
2nd – 490
3rd – 482
4th – 476
5th – 472
6th onwards – one gap point between placings 471,470,469 etc
AORS categories
Competitor's age category is based on the age as at the first AORS event (5th October 2019).
All competitors are automatically entered in the open category of their discipline. For example a 45-year-old Ski Paddler enters the Ski Over 40 category he will also be entered in the Ski Open category.
Competitors can only enter one category. For example a 50 year old entered in the Spec Ski is not eligible for Over 50 points and prizes, only Spec Ski and Ski Open.
Categories
Ski Open Male
Ski Open Female
Ski 19 & Under Male
Ski 19 & Under Female
Ski Over 40 Male
Ski Over 40 Female
Ski Over 50 Male
Ski Over 50 Female
Ski Over 60 Male
SLSA Spec Ski's Male
SLSA Spec Ski's Female
Mixed Double
Male Double
Female Double
SUP Open Male
SUP Open Female
OC1 Open Male
OC1 Open Female
Prone Paddleboard Open Male
Prone Paddleboard Open Female
Total Prize Pool of $100,000 in Cash and Prizes
To add to the already attractive offerings from
The Doctor
and associated WA events,
Shaw and Partners
have added an additional sweetener to entice the very best to race over the week.
The Shaw and Partners WA Race Week
will combine five big events over various distances to find the best Surf Ski Paddler on the Planet. Starting with the
Fenn West Coast Downwind
, a couple of
Sunset Surf Ski Series Races
, the
Dash for Cash
and wrapping up the week with
The Doctor
. Points across all 5 events will be accumulated with
$35,000 in Bonus Prize Money up for grabs
. This promises to be the biggest week of ocean paddling and if WA lives up to its reputation, some of the best downwind racing with a
total prize pool of $100,000.
Click
here
for full details.
Shaw and Partners Doctor 2018
Manly Wharf Bridge to Beach
Shaw and Partners 20 Beaches Ocean Classic