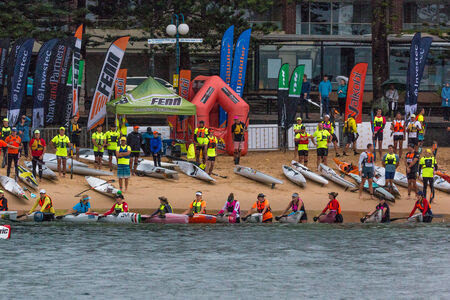 PHOTOS – 2021 Manly Wharf Bridge to Beach
March 22, 2021
VÖOST Shaw and Partners Forster Race Week
April 14, 2021
Shaw and Partners AORS – Race Two
Manly Wharf Bridge To Beach Sponsored by Investec
No way, no way are we cancelling or postponing another event!
After a year of doing just that and with a one in one hundred year storm unleashing on Sydney they were our thoughts as we went into the Bridge to Beach and the first event in this season's AORS.
Luckily for us we had an approved contingency course in place, as we had learnt our lesson from a postponed event a few years before. Where the day we moved the event to was almost as bad as the day we postponed the event.
While this contingency course didn't have all the attractions of the normal Bridge to Beach event it did have some upsides.
The first being, given the conditions the course was safe and offered some small downwind/crosswind sections (probably more than the normal course would have in those conditions). The second was that spectators actually saw the race unfold from the comfort of The Bavarian and Manly Wharf.
Given all that was going on around the state of NSW we actually managed to jag an almost rainless period to run the race, although it belted down immediately after.
The race itself was the first chance in over a year for the serious contenders to unleash and that they did. Out of the blocks in both mens and womens races the pace was fast. After the first lap the contenders had established themselves in both genders with a group of four in the girls (Danielle Mackenzie, Jemma Smith, Jordy Mercer, Georgia Laird) and three in the Mens (Jackson Collins, Tom Norton, Cory Hill). If you asked me before the race who your eventual winner would be, my guess would have been one of those mentioned.
While the battle was raging at the pointy end there was plenty of action going behind. All the various categories were fighting for places and valuable points in the AORS as this was the first event and also offered major event points.
The last lap saw a series of very strong gusts send some of the field sideways in the crosswind section with those heading upwind barely making ground.
All in all it was not too bad a way to kick what we hope will be a huge year for Ocean Racing and we look forward to seeing you all at the next event.
A big thanks to all who supported Fragile X, especially Shaw and Partners Foundation, we raised $25,000.