It was the sudden passing of good mate, TV journalist Charles "Chucky" Stewart, to a heart attack after a paddling session back in 2016, that inspired ironman legend, Guy Leech, to launch a heart health mission to get defibrillators available to all Australians and Ocean Paddler race director Dean Gardiner to create THE CHUCKY  – a 13 km paddling race off Collaroy's Fishermans Beach in his memory.
The CHUCKY returns this Saturday morning (March 19) for round two of the 16-race Shaw and Partners Australian Ocean Racing Series.  Over 150 paddlers will race ocean skis, paddleboards, SUPS and canoes, with Dean Gardiner and Guy Leech coupling up to paddle a double ocean ski, in memory of their mate.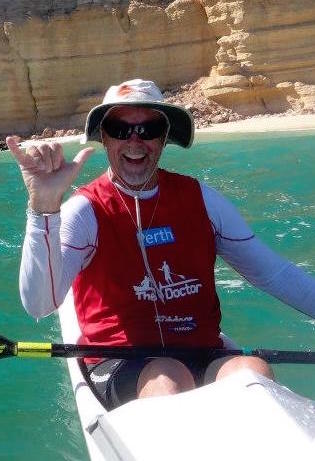 Chucky, as he was known to the Sydney paddling community – and to his mates Guy Leech and Dean Gardiner who is the ten-time ocean racing world champ –  was a highly respected TV journalist who loved paddling.  He was a youthful 65 and appeared fit and healthy.  But in January 2016 after finishing an ocean paddling session on Sydney Harbour, Chuck suffered a heart attack and a sudden cardiac arrest, and despite the best efforts of ironman legend Guy Leech to resuscitate him, tragically passed away.
His 20-year career at the Nine Network and Wide World of Sport, saw Charles integral in the promotion of paddling through coverage of major world paddling events like Molokai, King of the Harbour and the Palm to Pines on Nine's WWOS.
"I met Chucky in 1990 when he covered Molokai which Grant Kenny won and I was third.  He then covered countless races for us and got paddling on mainstream television.  He loved the sport and the people and really did so much to promote our sport.  He was truly a great mate," said Dean Gardiner.
The first CHUCKY was held at the boys' old training ground, Fishermans Beach Collaroy, in April 2016 – just three months after Chuck's passing.   
"We had a farewell ceremony on the beach and then we paddled out and sprinkled Chuck's ashes.  Each year we remember him and commit to doing more to keep our mates fit and aware of their health," said Gardiner.  "Now with everything these past two weeks, with Shane Warne, Rod Marsh and Senator Kimberley Kitching, people realise how heart health is a priority for us all," said Dean.
This Saturday's Shaw and Partners race will see 150 paddlers take to the water, aged from 15 to 70.   Some will be training buddies and passionate paddlers, and others on the start grid will be the elite of the sport.
At the pointy end of the field, the return of Jackson Collins and Jemma Smith to the series will add some stiff competition for round one Bridge to Beach victors, Tom Norton and Danielle McKenzie.  Also on the start grid will be form paddlers like Newport's Luke Morrison, Greg Tobin and Mitch Trim, the Gold Coast's Cory Hill and Sam Norton and Bulli's Hannah Minogue.
In the over 50 class, Jim Walker heads the category, but will feel the heat from four-times Olympian Dan Collins, while Bruce "Hoppo" Hopkins of Bondi Rescue will start.   Even old sea dogs will be on the start, including 73 year old Tim Hookins from Manly, who has given $4000 from his pocket to add to the prize money for juniors.
"I've been paddling since I was young and I want to encourage kids to get out on the water," said Tim after committing the generous prize pool to the youngsters in the under 17 and under 21 categories.
GUY LEECH TAKING ON CHUCK'S HEART HEALTH LEGACY
Just like Dean, Chuck's passing made Guy Leech reassess everything in life.  Leech was on the spot when Chuck collapsed on the beach after a group paddling session, and as a lifesaver of old, jolted into action.
"That day will stick with me forever.  You are looking in your great mates' eyes, performing CPR, and trying not to lose them.  It was a tragedy, and it haunts you, it made me rethink my entire life purpose," said Leechy, who has become a heart health advocate since that fateful day in 2016.
"It was an impossible situation.  I did what I thought was right.  Airway, Breathing, Circulation..no pulse, no breathing.  Call the ambulance, start CPR, everything will be ok.  But it wasn't."
The ambulance arrived within 10 minutes, and the paramedics set up the defibrillator, the "defib", while Leechy continued CPR on Chucky.  He was rushed to hospital but after four days, Chuck passed away. 
Like Dean, Leechy decided to turn his mates' passing into something positive.   Each year in Australia around 30 000 people suffer a Sudden Cardiac Arrest, and only 6% survive.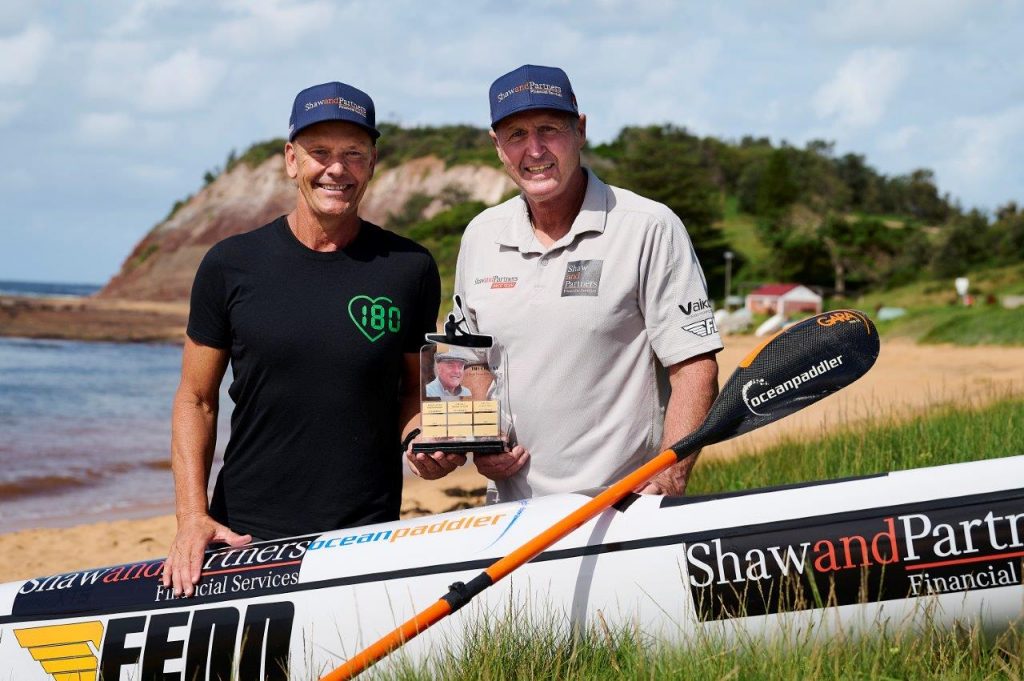 "But here's the kicker," said Leechy.  "If you can get a defib on the patient within three minutes, that's 180 seconds, you can increase the chance of survival to over 70%.  So I thought what if I had had a defib in the car, or at the café?   Would Chuck have lived?," said Leech, who since then has made it his mission to help people become heart smart.
Leechy started distributing defibs and training people on how to use them confidently in the case of a Sudden Cardiac Arrest and distributes them nationally through his company, Heart 180 – a name to reinforce the 180 seconds a person has to get a defib to a sufferer. In five years, he's distributed over 15000 defibs installing them in sporting clubs, corporate offices, shopping centres and apartment blocks, and he trains people every day on how to use them.
"I'm on a mission to get defibs in more public places and more homes, because if you can get the defib on a patient within 180 seconds, we give them the best chance of living.  Learn how to use a defib, learn how to do CPR," said Leechy.
"And we all need to be heart smart.   Cardiovascular disease can typically be prevented by a healthy diet and exercise and regular health check-ups.   If you have a problem get under the care of your doctor, because medication and effective management of cholesterol and blood pressure are key.
"The message is clear, and for men in particular.  Eat well.   Get off the couch and get moving, start out walking, join a gym and work at getting stronger and developing core strength.    Once you have developed some aerobic fitness and strength, find a sporting passion – an exercise you love to do. "
Leech tells the story that after Chuck's passing, he asked the 100 visibly fit and healthy men in his paddling group to get checked by a cardiologist within 12 weeks.  Of the 100, five had to have stents, 13 had to go under medication – nearly 20%.
"And that was a group of pretty active men," said Leech.   So be vigilant. If heart disease runs in your family, make sure you are checked by the time you are 40.  If no hereditary conditions, make sure your GP is monitoring your heart health from age 50."
Recent figures from the Heart Foundation (as quoted in The Age on March 11, 2022)show:
18 people die of a heart attack in Australia each day.

In 2020, heart attacks accounted for one in 25 deaths. That year, 2800 women and about 3700 men died of a heart attack.

In 2018-2019, 157 people were admitted to hospital for a heart attack every day, or about 57,000 people in a year.

The known risk factors for heart disease include smoking, high blood pressure, diabetes, high cholesterol, obesity and genetics.

Heart disease "may be silent" for some people – a quarter of people experiencing their first sign of a heart attack did not have any of the risk factors and die before they reach hospital.

Cardiovascular disease can typically be prevented with a healthy diet, exercise, medication and effective management of cholesterol and blood pressure.
RACE DETAILS – THE CHUCKY, Round 2 Shaw and Partners Australian Ocean Racing Series
A 13 km paddling challenge off Fishermans Beach Collaroy, and a shorter 8km course for SUPS, paddleboards and ocean ski paddlers who relish a shorter distance.
Saturday March 19 – 10 am start time
Previous winners
2016 Jeremy Cotter (Cory hill 2

nd

) Yanda Morison

2017 Cory Hill Maddie Spender

2018 Cory Hill (Jackson Collins 2

nd

) Jemma Smith

2019 Jackson Collins

 

(Cory Hill 2nd

) Jemma Smith