Official Merchandise
Vaikobi is a proud supporter of the Australian Ocean Racing Series including the iconic 2018 Shaw and Partners Doctor Ocean Classic.
For 2018 Vaikobi be offering an Official Event Tee Shirt, Official On-Water Performance Tee as well as a Retro Doctor Truckers Hat.
All items will be available in Perth for pick up during registration from Vaikobi.
You can order either through www.vaikobi.com or during the online entry process for The Doctor.
See you all in Perth!
2018 DOCTOR TRI-BLEND VINTAGE NAVY TEE
$45
The Official 2018 Doctor Tee is a super soft Vintage Navy Tri-Blend which will quickly become your favourite tee!
Tee Specs:
145g 50% Poly, 25% Combed Ring Spun Cotton, 25% Rayon
Tri-Blend has a Heather look for all colours
Available for pick up at Race registration.
2018 DOCTOR PERFORMANCE TOP- FLURO ORANGE
$50
This year we are offering the Vaikobi S/Sleeve Performance as part of our official 2018 Doctor Race Gear.
The Short Sleeve Performance Top is a super lightweight and comfortable paddle top which performs both on and in the water. In fact, this shirt feels fantastic when wet!
Designed to be relaxed fitting, this will be your go to top, to keep you light and cool whilst also providing UV 50+ protection from the sun.
Features:
Super lightweight and breathable
relaxed fit
fast drying
UV 50+ rated
Pick up at Race Registration with Vaikobi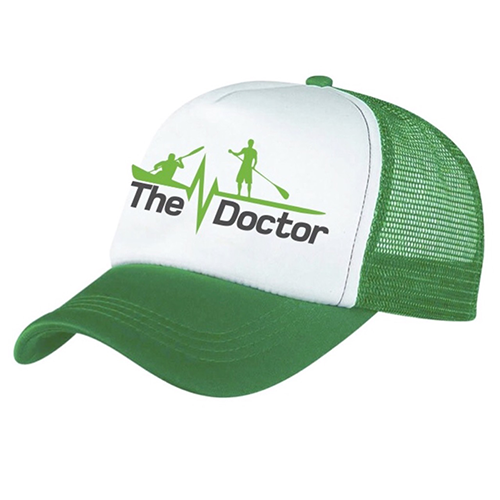 THE 2018 DOCTOR RETRO TRUCKERS HAT
$20
Celebrate the heritage of the worlds most iconic downwind race with the 2018 Doctor Truckers Cap in Retro Green/ White!
The Foam Mesh Truckers will keep you cool whilst protecting your head from the Harsh Western Australian Sun!
5 panel design with pre-curved peak
Padded polyester front panel with nylon mesh side and back panels
Padded cotton sweatband
Adjustable plastic tab at rear
Pick up at Race Registration with Vaikobi