Event Information
Charles Stewart Memorial Cup
An event of the Shaw and Partners Australian Ocean Racing Series.
Saturday 5th October 2019
MAJOR EVENT of the Shaw and Partners AORS.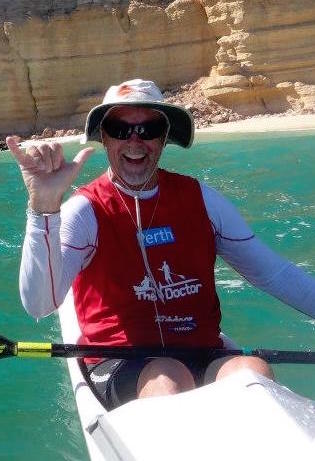 Charles Stewart paddling at Ningaloo Reef during one of the Oceanpaddlers Expeditions.
The Course
The event will take place at Fishermans Beach, Collaroy. There will be both a Long Course 16km and SUP/ Paddleboard/ Short Course 8km.
Click here for the Final Course.
Categories
Long Course
The AORS Categories will be used for the Long Course and AORS points will be awarded.
Individuals Male and Female
Ski Open
Ski Under 19
Ski Over 40
Ski Over 50
Ski Over 60 (male only)
OC1
SLSA Spec Ski's
Doubles
Male Double Ski
Female Double Ski
Mixed Double Ski
SUP / Paddleboard / Short Course
The AORS SUP and Prone Paddleboard categories will be used and AORS points will be awarded.
SUP Male and Female Open
Prone Paddleboard Male and Female
Ski, OC1 and all other craft (not eligible for AORS points)
Double craft
Category note: For prizes and awards there must be at least 5 entries in the category. Where there are less than 5 entries then those competitors will be moved to the next most relevant category.
Event Times
The registration, briefing, start and finish of the race will all take place at Fishermans Beach, Long Reef.
Please check final event information for final times.
8.30am – Registration opens
9.30am – Registration closes
9.45am – Briefing
10.00am – Race start
Presentations will take place after the event at Fishermans Beach.
Entry Fees
$60 Singles (online)
$80 Doubles (online)
Under 19's – Free entry for competitors racing on a Fenn Surf Ski as Fenn will be sponsoring the entry fees. If you are paddling a Fenn please email us at contact@oceanpaddler.com.
*Online booking fees apply.
Late Entries fees incur an additional $20 for on the day entry.
Entry Refunds & Cancellations
Entry cancellations can be made up to two weeks before the event date when a refund (less 20% administration fee) will be made. Refunds will not be given after this date. Please send requests for refunds in writing to contact@oceanpaddler.com. If the event has to be cancelled due to weather conditions or natural disasters or any other reason so deemed by the organisers, the event will be rescheduled where possible and no refunds will be issued.
Equipment Requirements
All Surf ski, SUP, OC1 competitors must wear an approved Level 50 Lifejacket or greater (hi-vis preferred & recommended). An approved Level 50S Lifejacket can only be worn with a hi-vis shirt over the top. No black or dull colour lifejackets will be permitted. No inflatable bum bag style lifejackets are permitted except for prone paddleboard competitors
Prone paddleboard competitors only are permitted to wear and approved Level 100 Inflatable bum bag lifejackets. Oceanpaddler will have these available to purchase or hire. Please contact us prior.
Prone paddleboard competitors must wear a hi-vis shirt.
All competitors must wear a Safety Leg Leash – a leash that attaches the paddler to the craft
All competitors must wear the electronic timing chip provided at registration
It is recommended to wear hi-vis hat / clothing
It is recommended to carry a mobile phone in a water proof bag
It is recommended to carry water for the race
A list of approved lifejackets can be found here.
Scrutineering of compulsory equipment may take place at registration on race morning. Please ensure you have the correct equipment
Race Rules
All competitors must abide by the following race rules:
Wear / carry the mandatory equipment as outlined above ('The Chucky' event)
Register for the event on the morning of the race and collect the timing chip
Attend the pre-race briefing prior to the start
Stop and help any other competitor/s in difficulty whilst on the course
Follow the event course at all times
Follow the direction of water safety officials at all times
If a competitor withdraws mid-event they must notify the event officials either in person or by phone to be formally withdrawn from the event. Official contact numbers will be available at registration