Leechy and Deano's Magnetic / Hamilton Island Dream Tour 2017
Location: Magnetic and Hamilton Island, North QLD
Dates: Friday 11th August to Friday 18th August 2017
Magnetic Island offers quiet, secluded beaches, rugged nature, abundant wildlife and is situated just off the coast from thriving Townsville.
The tour will include the Around Magnetic Loop Race which is part of the North Queensland Ocean Paddle Series and gives paddlers the opportunity to race individually or in a multi person team relay format. There are five legs that vary from four to ten kilometres. The race enables paddlers and spectators the ability to see the Island from a different perspective to the average island visitor. www.nqoceanpaddleseries.com (Information on the 2017 race will be updated soon).
Perfectly situated on the edge of the Great Barrier Reef, among Queensland's 74 Whitsunday Islands, Hamilton Island offers an experience like no other: glorious weather, azure waters, brilliant beaches, awe-inspiring coral reefs, fascinating flora and fauna, fine food and wines, and activities almost too numerous to mention.
Itinerary
For those travelling from interstate and need to arrange flights you will need to fly into Townsville Airport on Friday 11th August and fly out of Hamilton Island on Friday 18th August. We will arrange the transport between Townsville and Hamilton Island. Please note flights are not included and you are responsible for booking these.
Friday 11th August
Arrive Townsville
Ferry to Magnetic Island. Accommodation on Magnetic Island
Saturday 12th August
Race 'Around Magnetic Loop' – Team relay or individual 37km (5 legs). www.nqoceanpaddleseries.com (Information on the 2017 race will be updated soon)
Accommodation on Magnetic Island
Sunday 13th August
Downwind Clinic on Magnetic Island
Paddle to Townsville (optional)
Accommodation Townsville
Monday 14th August
Early transport to Airlie Beach
Ferry to Hamilton Island or paddle to Hamilton Island (optional)
Afternoon familiarisation paddle at Hamilton Island
Accommodation Hamilton Island
Tuesday 15th, Wednesday 16th and Thursday 17th August
Training Camp on Hamilton Island
Accommodation Hamilton Island
Friday 18th August
Trip concludes
Fly / ferry out of Hamilton Island
The Trip



A group of ocean paddling enthusiasts get the chance to experience North Queensland in a way that only a few will ever get the chance to do.
Everyday will feature new paddling adventures, on most days we will barge out to a new location and learn the art of downwind paddling in an exotic location.
Most of the year in this region the South East Trade winds blow creating big rideable chop. Coupled with the huge tide movements you will experience something very different to normal ocean conditions.
While not on the water your coaches will take you through a demanding physical program to making sure you get the most out of each session. You can do as much or as little as you like, you will not be called SOFT if you back off.
When outside of your comfort zone you will kick back and enjoy what Magnetic and Hamilton Island is renowned for.
This is one of the few trips where both you and your partner will be completely satisfied.
The trip includes:
An amazing week of paddling on and around Magnetic and Hamilton Island.
Expertise downwind, technical and training advice/coaching.
Barge and transport to paddling locations.
Lifeguard on duty.
Transport of your own craft to Magnetic and Hamilton Island and return from Sydney. The trailer can pick up skis on the way to Townsville (you can hire a ski if required).
An experience with two of the most experienced ocean athletes in the country, Guy Leech and Dean Gardiner.
Your Coaches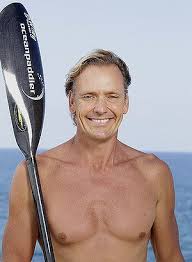 Guy Leech – Was Leechy the first real ironman in Australia? Well he did win the inaugural Coolangatta Gold and a couple more after that. He has won the Molokai Race and a bunch of other stuff
Once Leechy has set his mind to something he makes sure that he achieves that goal. He is as determined as they come and makes the people around him just as determined to reach their goals.
Dean Gardiner – Dean is considered to have a more laid back approach to sport. In fact to just about everything in life.
While very competitive Dean approaches events with a casual manner but makes the most out of the prevailing conditions. Dean grew up on the sea and worked as a fisherman on various vessels throughout the North West of Australia. His knowledge of the ocean is second to none and invaluable for this journey.
Costs
Trip costs will vary on your accomodation preference and if you are sharing with a partner or friends.
Please review the Booking Form for details of costs. Please note that hotel prices are are only guaranteed for a limited time. Please contact us and we can confirm availability and pricing.
Non paddling partners / family are welcome to come along. Please contact us to discuss.
If you are travelling alone and wish to share accommodation costs with another participant please contact us to arrange.
Bookings
Please complete the attached Booking Form which can be downloaded and completed electronically (word document) or completed by hand. A PDF file is also available here.
Please return the booking form at your earliest.
A $500 non -refundable deposit is required at time of booking to secure your place on the trip.
The full balance will be due 8 weeks prior to the commencement of trip.
More Information
For further information regarding the trip details please contact:
Dean Gardiner Email: dean@oceanpaddler.com Ph: 0427 171 403 OR
Yanda Morsion Email: yanda@oceanpaddler.com Ph: 0414 45 46 48
Not everyone can live out their dreams, but you can!
Videos
Watch the highlights from the 2015 and 2014 Hamo Dream Tours.
Hamo 2015 Promo from Charles Stewart on Vimeo.