Rules and Equipment
Updated: 10th August 2017
Please note: The below Rules and Equipment are for the 2017 and may be updated for 2018. Please check this page again prior to the 2018 event.
In any life-threatening emergency call 000.
Mandatory Equipment
Lifejackets

All competitors must wear an approved Australian Standard AS 4758 or International Standard ISO 12402 Lifejacket.
All surf ski, outrigger, plastic and sea kayak paddlers must wear an approved minimum Level 50 Lifejacket (Hi-Vis recommended). An approved Level 50S Lifejacket will only be permitted with a Hi-Vis shirt over the top. No black or dull colour lifejackets will be permitted. No bum bag inflatable lifejackets are permitted.
SUP and prone paddleboard paddlers only are permitted to wear an approved Lifejacket Level 100/150 bum bag inflatable lifejacket.

Safety Leash – All competitors must be attached to their craft via a safety leash.
Hi-Vis Clothing – All competitors must wear a piece of Hi-Vis clothing – this can be a Hi-Vis lifejacket or hat.
Flare – All competitors must have at least one current or unexpired

orange smoke flare

attached to their craft/person. The flare should be easily accessible when on the water. Ensure you are familiar in how to use a flare. The below image provides an example, however ensure you have read and understand the instructions on your flare as they may vary.
Timing Chip – All competitors must wear the electronic timing chip on their ankle (right or left ankle). This will be provided at registration.
There will be equipment scrutineering at registration on Friday and on Rottnest Island. Please bring to registration and check in on Rottnest Island your equipment. Any competitor that does not abide by the rules and equipment requirements will be automatically disqualified.
Recommended Equipment
Mobile phone – A mobile phone in a waterproof case is strongly recommended with event contacts in your phone. Event numbers will be provided at registration.
Water – We recommend a minimum of 1L of water to be carried during the race.
Sun protection – Hat and sunscreen is strongly recommended.
Road ID App – We recommend using the Road ID App. Further details provided below.
Event Rules
All competitors must abide by the following event rules:
Wear/carry the mandatory equipment as specified above.
Register for the event on Friday 24/11/17 at Sorrento Beach Surf Life Saving Club. Check program for details.
Attend the two pre-event briefings held on Friday 24/11/17 at Sorrento SLSC and immediately prior to race start on race day at Army Jetty, Rottnest Island (or as advised by the race director). See program for details.
All competitors must be checked in on Rottnest Island by the event officials. This will be done from Army Jetty prior to the event briefing and race start.
A competitor who registers on Friday and then decides not to race or withdraws mid-event must notify the event officials either in person or by phone to be formally withdrawn from the event (event contact numbers will be available at registration).
Stop and help any other competitor/s in difficulty whilst on the course.
Follow the event course at all times.
Follow the direction of water safety officials at all times when on the water.
Give way to larger vessels when on the water at all times
Fremantle Port is a commercial port and operations will not cease during the event. Commercial shipping has right of way at all times.
All paddlers and their private escort boats must stay well clear of all commercial operations at all times when on the water.
Any competitors with private escort boats must be operated by registered certified skippers. NOTE: We are required by waterway authorities to notify them of all private escort boats. Please email or phone us with the boat name and type, and name and phone number of the skipper a minimum 48 hours prior to the event. Skippers will need to monitor VHF 72 during the race.
Additional Information
Weather Conditions
Weather conditions can vary significantly and the safety of competitors, safety crew and the general public will be considered by the Oceanpaddler Race Director.
The Oceanpaddler Race Director will advise on adverse weather conditions or any matter which gives rise to a safety concern. This may result in the race being modified or cancelled.
Know how to use your Flare
Ensure you have read the instructions and know how to use your flare if required.
Ensure your flare is easily accessible should you need to use it.
General Flare Instructions Image – please check your individual flare as instructions may vary.
Check instructions
Remove cap
Pull yellow knob upwards and outward
Hold out and leeward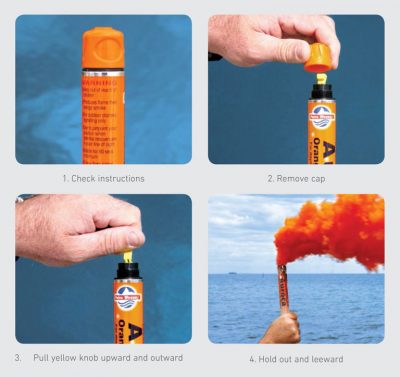 Road ID App
We recommend using the Road ID App with a mobile phone in a waterproof case. The app allows you to select contacts (friends and family) that can track you in real time during the race. In addition there is a stationary alert function which will SMS or email your notify contacts if you remain stationary for more than 5 minutes.
Ensure you test the app in training and become familiar with its use. Be mindful that running the App can drain your battery.
The app is free and available on both Apple Store and Google Play. https://www.roadid.com/ecrumbs.
Tips
Watch the Tutorial that is located under the Settings page.
When selecting or adding contacts make sure the phone number has the Australia country code +61 for the SMS to work (for example +61 414 000 000)